What questions do you have?
Here at the Events, Conferences, and Support Services Office, we get asked all sorts of questions each day. Our office wants to support you and your event programming. If you have questions about scheduling event programming or want to know how to secure different services on campus, we are here to help. Hopefully, we have the answer below, but if not, feel free to submit your query. The chances are likely someone else could benefit from what is on your mind.
What is EMS?
EMS is a comprehensive and robust scheduling system that replaced Resource 25 (R25) during summer 2014. EMS is the system of record for all non-academic scheduling on campus and helps to coordinate the many services such as catering and multimedia support that will make your next event memorable.
EMS powers the Centralized Scheduling Service, a web-based scheduling portal for faculty, staff, and students.
What are the benefits of Centralized Scheduling?
There are many benefits to Centralized Scheduling. Here are just a few:
Fair and transparent use of University facilities
Access from any web browser
Real time reporting of availability of campus locations
Why isn't every location available to schedule on the CSS?
EMS and the Centralized Scheduling Service requires clear definition of business rules in order to maximize its potential. If a location is not available to request or schedule using the CSS, it could be for any number of reasons.
The location is controlled by a specific department such as a conference room.
The process for scheduling the location online has not yet been clearly defined.
We may want to work directly with customers when scheduling the location.
If you don't see something that you would like to schedule, feel free to contact us. We will be happy to assist you.
How can I make events private?
Events with a confirmed or online confirmed status will be seen by other users of the Centralized Scheduling Service. One way to prevent the contents of your programming from being "advertised" is to use non-descriptive words in the event title field. For example, consider titles such as "Staff Meeting" instead of "Candidate Interviews."
Will there be end user training or system demonstrations?
Yes. If you would like to schedule a demonstration of the Centralized Scheduling Service for your department, feel free to contact us.
How can changes be made to event start and end times?
A key thing to remember is the difference between a reservation and a booking. Reservations convey the who and what of your programming, and bookings describe the where and when.
From the View My Requests section of the site. You can select any of your reservations that were scheduled using the Centralized Scheduling Service to edit them. There are three ways to make changes to either your reservation or bookings.
Edit Reservation
Booking Tools
The edit icon in the Actions column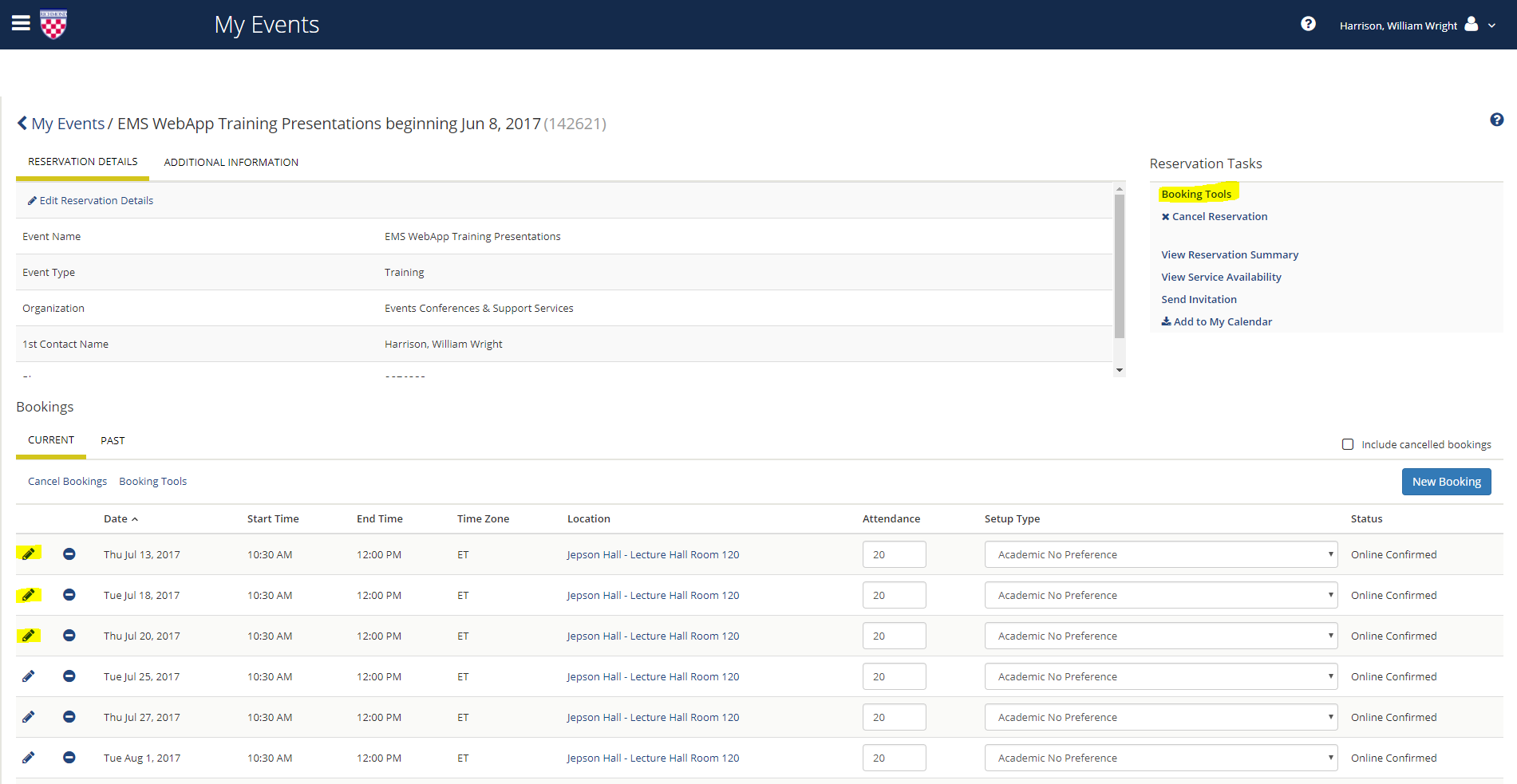 Choosing Edit Reservation will allow you to make changes to the event name, first or second contacts, and the event type.
Booking Tools allows for bulk changes to multiple bookings for date and time.
The edit icon in the actions column allows for changes to individual bookings for location, time, and date.
How can I create multiple dates for the same event (recurrences)?
Depending on the reservation template used, you may be able to create a recurrence for your event. This is ideal for recurring weekly or monthly meetings.
If a recurrence is possible, you will see a recurrence button in the Date/Time section when starting the reservation process. Recurrences can be set in the following ways:
Daily - event occurs everyday within a specified date range
Weekly - event occurs on the same day each week within a specified date range
Monthly - event occurs each month on the same day within a specified date range
Random - event occurs at the same time but on differing days within a range of days
Once a recurrence pattern is set, you can continue searching for rooms as you would for a reservation with only one booking.